If cricket is a war then India versus Pakistan is the meanest battle ever! When these two teams collide, there is no love lost thanks largely to the history and politics that comes into play. Spiced with pumping adrenaline, cooked in extreme pressure and served with sizzling excitement, India vs Pakistan is a perfect dish to have at any time or season.
Here are 10 matches which turned out to be absolute blockbusters when India and Pakistan met:
1. Rothmans Four-Nations Cup, 1985
Imran Khan breathed fire, bowling India out for a paltry total of 125. But the Indian bowlers made up for the batting disaster and wrapped up the Pakistan innings for a mere 87 runs, springing a win out of nowhere!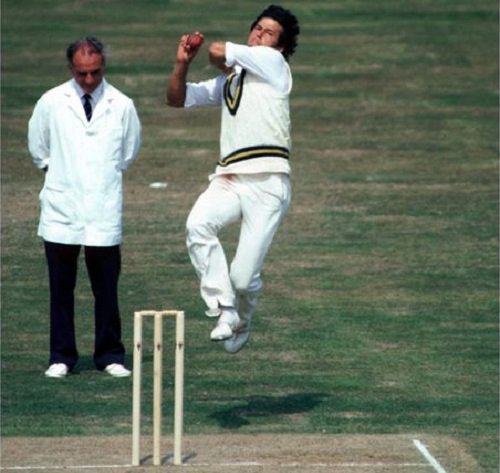 Source: telegraph
2. Asia Cup Final, 1986
Like most India-Pakistan encounters, this one went to the wire. Pakistan required 4 runs to win off the last ball when Javed Miandad hit Chetan Sharma for a six. Memories of this match still hurts every Indian fan.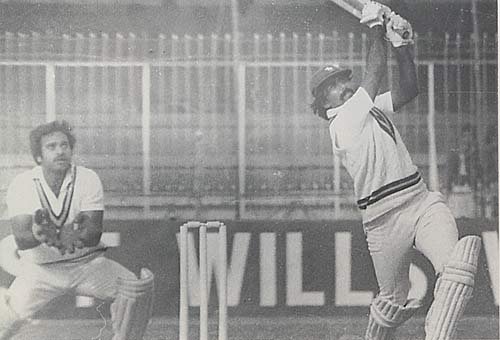 Source: espncricinfo
3. First World Cup Encounter, 1992
It was the first time India and Pakistan were meeting at the World Cup. Powered by an unbeaten knock of 54 by an emerging cricketer who goes by the name Sachin Tendulkar, India put up a target of 216 which Pakistan couldn't reach. India won the game by 43 runs!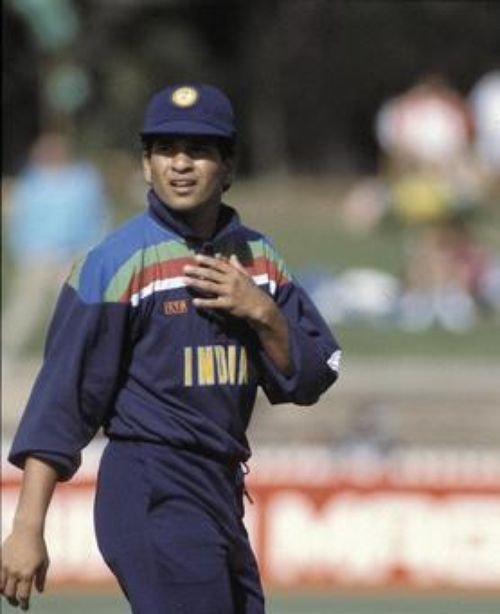 Source: thehindu
4. Wills World Cup, 2nd quarterfinal, 1996
With controversies, high-voltage tension and brilliant performances, this match was a blockbuster. It is remembered for a verbal spat started by Aamer Sohail after hitting Venkatesh Prasad for a boundary. The lanky Indian pacer however replied in the best possible fashion by clean-bowling Sohail on the next ball. Revenge never tasted sweeter as India won by 39 runs.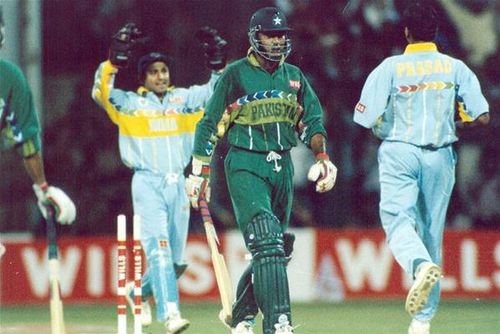 Source: cricketaddicts
5. ICC World Cup, Super Sixes, 1999
Batting first for the 3rd consecutive World Cup match against Pakistan, India delivered the goods with Tendulkar scoring 45, Dravid making 61 and skipper Mohammed Azharuddin taking the score to 227 with his unbeaten knock of 59. Indian bowlers bowled with discipline as Pakistan crumbled for a mere 180. India won the match by 47 runs.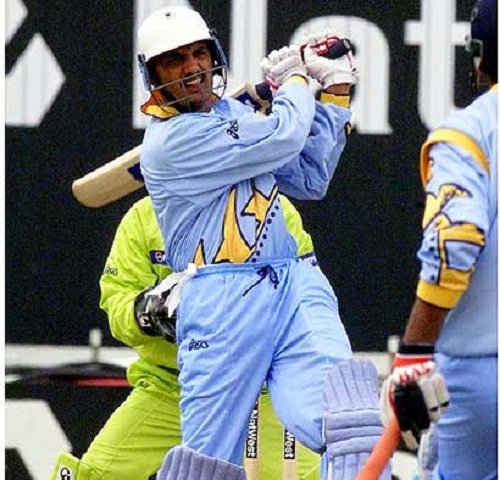 Source: indiaopines
6. World Cup, League Match, 2003
This match is majorly remembered for the moment when the little master cut a rising delivery banged in short by Akhtar, for a 6 over the third man fielder! Tendulkar was unfortunate to get out on 98 but India won by 6 wickets.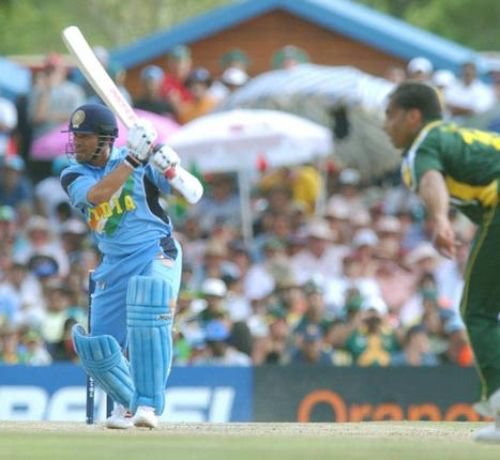 Source: thehindu
7. Asia Cup, 4th match, 2010
This India vs Pakistan encounter swung back and forth like a pendulum. But as destiny would have it, the Indian batting line-up toppled and the match went to the wire yet again. This time it was Harbhajan Singh who did the heroics by hitting Mohammad Aamer for a 6 off the second last ball to end the game in India's favour. Chetan Sharma would have been one relieved Indian that night!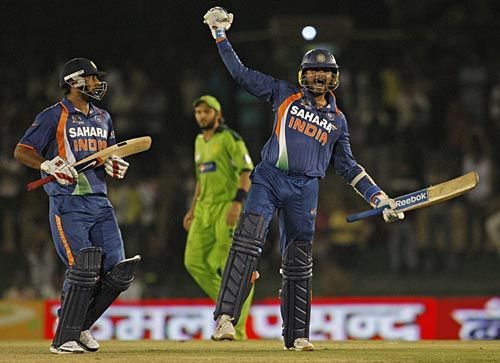 Source: reuters
8. ICC World Twenty20, Group Match, 2007
Beating Pakistan in a World Cup is nothing new but beating them 3-0 in cricket was quite unique! The T20 international which went to the last ball only to end in a tie, saw India-Pakistan face each other in a bowl-out for the first time. India won the bowl-out and the game 3-0.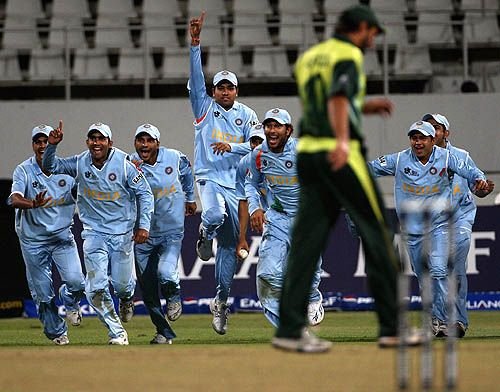 Source: sportskeeda
9. ICC World Twenty20, Final, 2007
The setting could not have been any bigger. Arch-rivals India and Pakistan met in the final of an all-important tournament and the game went to the final over yet again! For the last over, the ball was tossed to a rather unknown Joginder Sharma, who became a hero in India while Pakistan's Misbah-Ul-Haq became a villain in Pakistan for his attempted scoop which cost him his wicket and his country the inaugural T20 World Cup.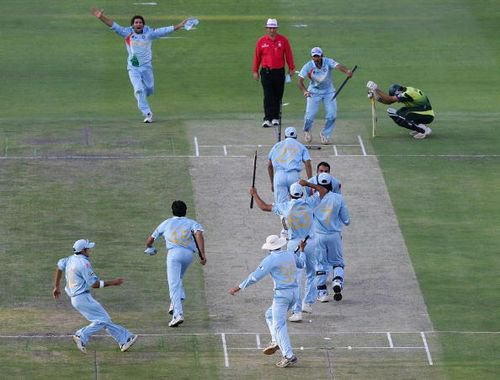 Source: sportskeeda
10. ICC Cricket World Cup, Semifinal, 2011
Not the final but just as important. The game had too much hype because both the neighbours had made it to the semifinals. With celebrities, diplomats and PMs of both countries in attendance, this match was war! Owing to disastrous fielding by Pakistan and a brilliant showing b y the Indian bowlers, India won the game by 29 runs. Man of the Match? Who else? Sachin Tendulkar!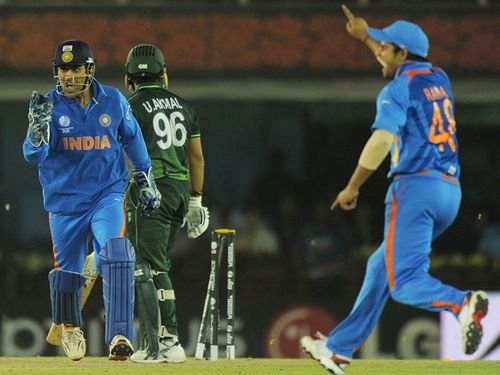 Source: biharprabha
Source: @scoopwhoop